It's not a gadget; it's your fashionable wearable wallet!
Battery-free | Never runs out of power | Always ready
Easy to connect a supported payment card
Standalone | No mobile phone is needed to make payments
Water-resistant
Make contactless payments worldwide, wherever your card is accepted
Your eco-friendly choice
The Polygon
A unisex, easy to wear payment bracelet with an eco-friendly design approach. It is made from PLA material -biodegradable- and synthetic rubber with non-allergic treatment for the bracelet part. Available in a variety of colours - €49,00. Get it now.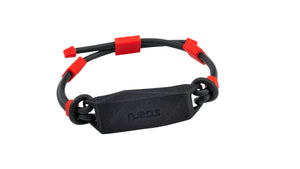 Supported payment cards are issued from banks in Sweden, Norway, Denmark, Finland, Germany, Estonia, Latvia, Lithuania, Switzerland, Spain, Portugal and Poland. Also, all Curve cards across Europe can be connected with Neos wearables!
We keep adding banks and card issuers. Subscribe to our newsletter to get notified on time.
We are working with

What customers say about Neos wearables:
Always on your wrist, easy to pay and comfortable to wear.

Aug 11, 2023 10:05 PM
Neos payment made my life easier. Paying all over contactless with my Neos bracelet is convenient, secure, and helps me to have fewer contacts with bacteria and viruses.

Jan 6 2021, 12:27 PM
I replaced an xxx-pay watch with a Neos wearable to be able to wear a mechanic high-value watch.

Nov 8 2021, 2:07 PM
Good looking and innovative product.

Jun 28 2021, 2:01 PM
Easy to install and follow the instructions.

Sep 7 2020, 10:32 PM
It's very convenient to pay with it.

Nov 20 2021, 3:36 PM